Thankfully, I eventually made a full recovery and returned to dancing for a while, but I soon realised that I no longer had the same drive to dance and began to feel my way in a new direction. I took courses in massage, reflexology and aerobics and gradually became more and more attracted to what Pilates had to offer.

Finally, this new enthusiasm led to me following a comprehensive 2-year training course at Pilates Off the Square, a Pilates centre of excellence in London. Here, I developed a true passion for Pilates, which has never diminished.

Today, I love my work in Pilates and want to share my passion with anyone looking for a safe and effective path to health and fitness.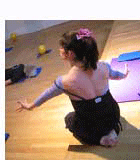 A safe pair of hands
Gaby is very highly qualified in Pilates and related disciplines of health and fitness. Her main concern, always, is your well-being, safety and enjoyment.
Gaby is I.T.E.C-qualified in massage, sports massage and reflexology.

She is a member of the Register of Exercise Professionals at Level 3 (the highest grade), meaning she qualifies for GP referral. See www.reps-uk.org

Gaby is also a member of the Pilates Foundation, the official body representing Pilates practice in the UK. See www.pilatesfoundation.com

She's also a fully-qualified Red Cross first aider.